Products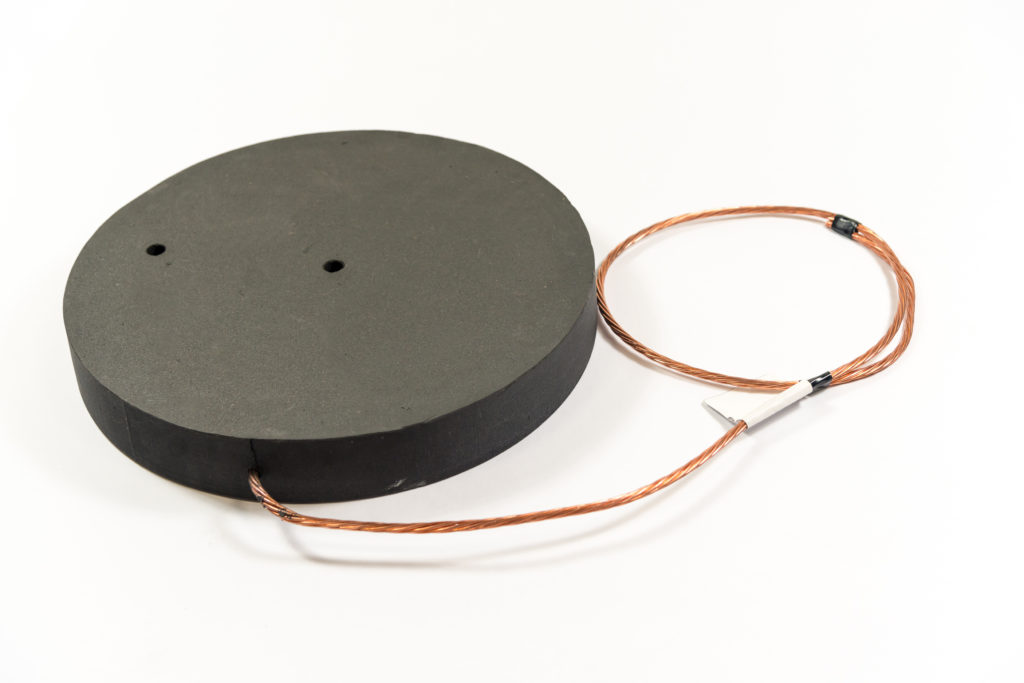 Earthing Services' clients save time and money, they accelerate installation schedules, and they spend less money on copper and other metallic components. A growing number of consultants, architects and authorising bodies are specifying Earthing Services products as a demonstration of their commitment to a superior level of safety, and that they are embracing the best available products and methods for their projects. 
The Earthing Services product range is the result of continuous research and development, and that means that it regularly expands to include our new innovations. 
In this section of the website you will encounter some of our bestsellers and our new additions. Some of the products are specifically tailored to a specific application, but in nearly every instance a product will be a transferrable technology that can be used easily or adapted for use for a different purpose. 
With a helpful and effective team to represent its customers' needs Earthing Services is well placed to offer one of the best customer experiences in available in the market. Our technical team ensures that all of Earthing Services' products are supported by industry leading expertise, and if required our range of services. 
Contemporary earthing systems are not best supported by traditional earthing products and methods. Our range of products and methods that numerous smart companies have already adopted, offer the following benefits over traditional methods:
Safer to install:

reduces risk to personnel

Faster to install:

accelerates build schedules

Easier to install:

reduces labour costs

More effective at fault current management:

fault current will never interrupt service revenue

Has zero OpEx:

Offers a lower Total Cost of Ownership

Enables CapEx to be amortised over the whole service life of the earthing system:

locks costs at day 1

Corrosion and deterioration proof:

future proofed to prevent aggressive environments or DC stray current damage

Theft and vandalism proof:

Thieves and vandals targeting the earthing will never interrupt service revenue

Adaptable to site constraints:

Ideal for limited footprints, shallow excavations, non-linear routing

Independently lab tested and used by others:

No early adopter anxiety
Here's an overview of the range.
ConduDisc - say goodbye to driving earth rods!
ConduDisc is quickly becoming our most popular product. It has been developed as a direct replacement for traditional earth rods, and can be supplied to suit any variety of application from LV systems like EV Charge Point earthing or railway signalling, along with HV systems like substations or power generation sites. 
ConduDisc does not need to be driven like a traditional earth rod, and can simply be dropped into an existing excavation such as a foundation or cable trench. As such it is far safer for installation engineers, far easier for installation engineers, and far faster for them to install. 
Unlike conventional earth rods the ConduDisc has incredible longevity, making it largely deterioration proof (even over a 60-year aging test the ConduDisc was still showing no sign of deterioration).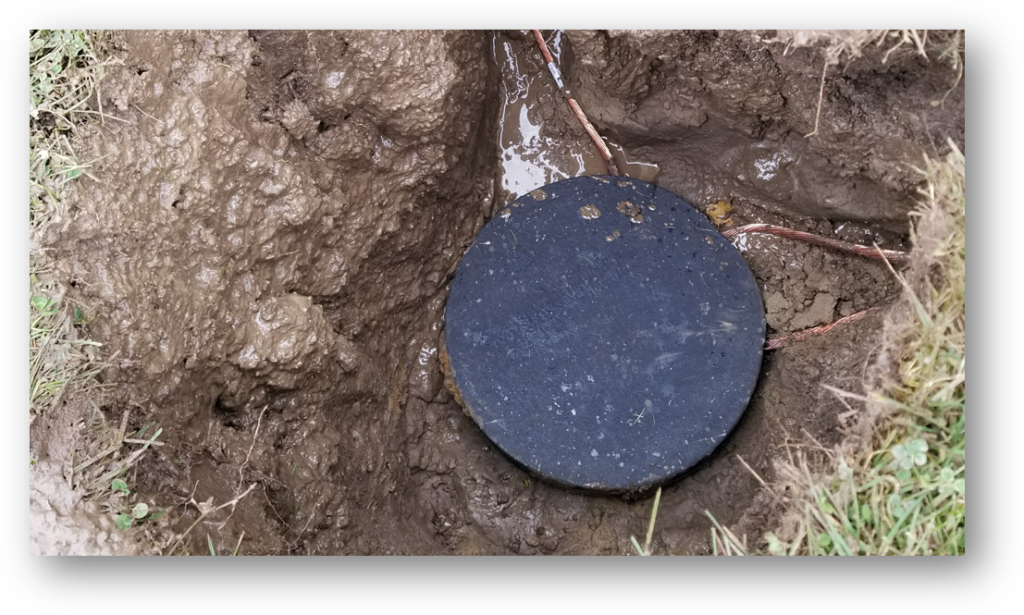 ConduForm - safe and easy earthing in bare rock terrains is finally possible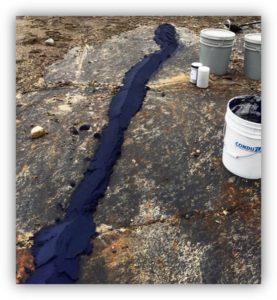 Making electrical earthing systems effective in rocky environments is not always possible when relying on conventional products and methods. With ConduForm this is no longer the case. ConduForm has the ability to adhere metallic conductors to bare rock. This ability to "glue" conductors to rock, where previously they may have simply been laid on the surface reduces their electrical resistance by a huge margin. Furthermore any metallic conductor encased within ConduForm is protected from deterioration and the attacks of even the most persistant thief or vandal. 
If conventional earthing products are not left lying on the surface (making them easily accessible and removable for thieves), then they require hugely expensive and time consuming excavation and reinstatement. ConduForm is installed very quickly and then if required to disguise the conductor it can be bermed, meaning to cover with any material of your choosing to achieve the required aesthetic. 
ConduFlow - as easy to use as pouring a bucket
ConduFlow is a huge step forward in backfill technology. Not only is it easier to mix and install than conventional backfill products, it also provides much lower resistance. It will displace any standing water in the bottom of an excavation so pumping is not required, and once cured offers peerless performance. 
Ideal for use with our ConduDisc product, but just as easy to use with conventional metallic conductors, ConduFlow will encase any nominated conductor, protect against deterioration and offer exceptional performance.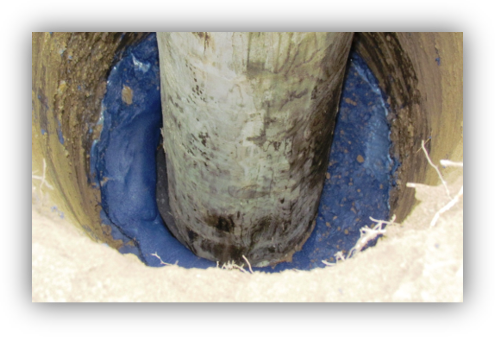 Conducrete - best of the bags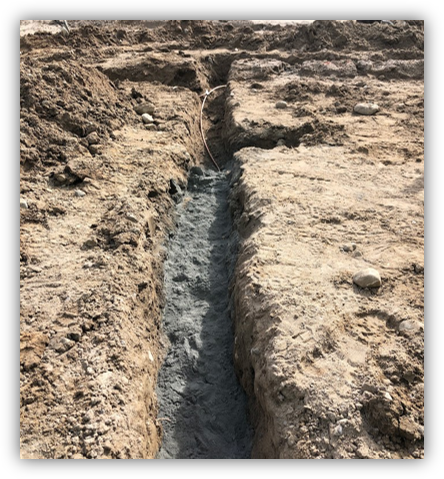 Conducrete has been independently proven to be the best product of its type on the market. Unlike other conductive concrete / conductive cement type products Conducrete does not require a cement mixer, water and a power supply to be used. Most installation engineers using the product simply cut open the bag and use it in dry form. The product will then absorb moisture from the surrounding ground mass and cure, where it will achieve its maximum efficacy. Does this mean the product is unsuitable for boreholes? Not at all, Conducete can be mixed into a slurry and used that way, but many clients have found it far easier and cheaper to achieve a target resistance by using horizontal conductors. This method usually adopts existing cable excavations; prior to the cable to point of connection (or other excavation) being installed they encase a bare cable in dry form Conducrete and then backfill some of the native excavated material. The cable can then be installed on the reinstated native material with the electrical earthing system safely beneath. So by avoiding boreholes there's no need for special permits, or even planning permission in some locations, just effective earthing that is fast and easy to install.
Marine Electrode - extend your electrical earthing system into water!
Trying to use the ground beneath bodies of water to extend electrical earth systems is not a new idea, but anyone using conventional methods will be quick to state how short-term the solution was due to rapid deterioration of conductors. Now with our Marine Electrode we have an effective solution that is easy to install and will last for the service life of the electrical system to which it is connected. Wondering whether it can be used in salt water environments? Yes, it certainly can with our specific salt water Marine Electrode. 
The Marine Electrode does not require a connection back to the mainland which makes it the obvious choice to provide a safe electrical earth for electrical equipment in marinas or other recreational bodies of water.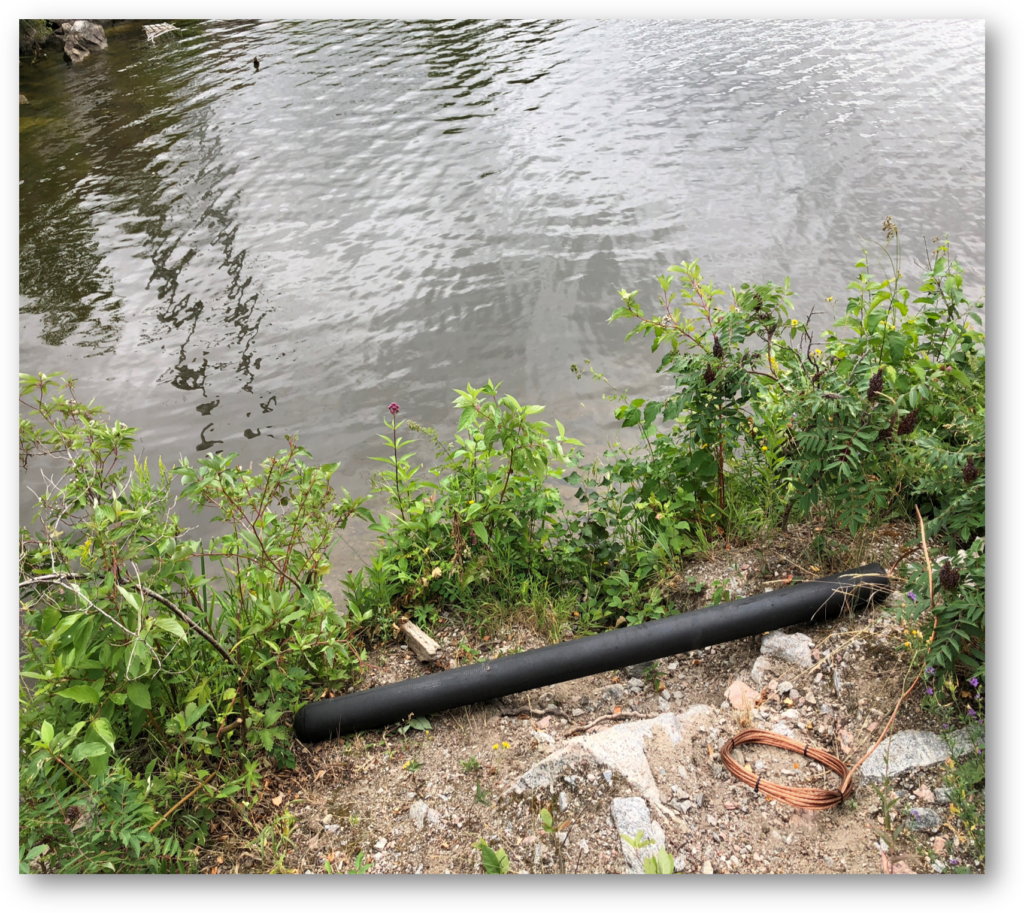 What our customers say - testimonials
We have never met a customer who did not prefer our products and methods once they had tried them, but anything new or different may be a bit of a daunting prospect, but click on the button to see a sample of some of our feedback.
Customer support - even though our products are easy to use, we are here to help.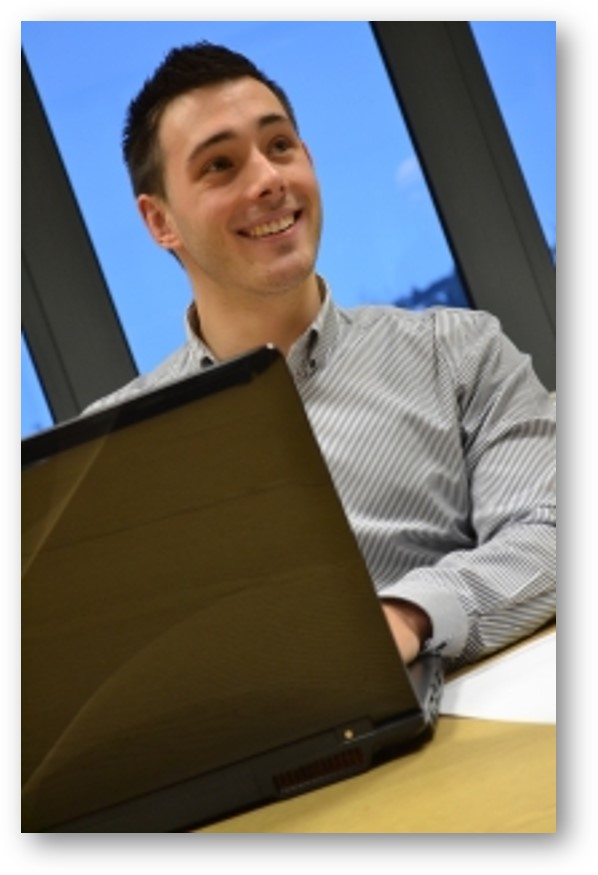 When our products are being developed they are usually coupled with an optimised method of using them. This means that to gain all of the possible benefits from adopting the product that a new method of working may be required. Fortunately our methodologies are always based on finding the simplest possible way to take all of the thinking away from the day of installation. Our support engineers are only too aware that if the weather is against the installation team then they do not need to be re-reading a mysterious method statement, that want to get the installation done as fast as possible. That leads to another point about our methodologies, they are always safer, faster and easier than installing using conventional earthing products so that keeps installation engineers safer, and also makes them far happier. 
Technical services - more than just product support
Electrical earthing systems, cathodic protection systems, AC mitigation systems, stray current collection systems, even lightning protection systems cause clients, consultants and contractors a lot of sleepless nights. There's no need for that, which is why Earthing Services offers technical services to take the stress away. Our experienced team has a wealth of experience based on decades of successful projects. Also due to the product development bias our technical service team can draw on the latest technologies available to ensure the safest system is developed and supplied. With services starting at the initial testing, moving through to design, and then onto final commissioning and post-installation testing. Furthermore if a problem site exists our team can provide support to get projects back to safety. With Earthing Services you are always in safe hands.